Elementary
Kentucky Numeracy Project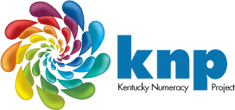 Through the Kentucky Numeracy Project, the KCM has produced a growing system of resources and professional learning for teachers of numeracy. The KNP Intervention Guide contains:
Exemplary student learning experiences, built around the Add+Vantage MR (AVMR) constructs and levels.
Support for in-depth implementation of the grades K-3 Kentucky Academic Standards (KAS) for Mathematics related to number and operation.
Activities that support students in enacting the Standards for Mathematical Practice.
Tools for professional learning and student-centered problem solving for Response to Intervention.
Evidence-based instructional strategies for accelerated learning, especially for developing quantitative reasoning, robust automaticity, foundations for fluency, and efficient mental strategies.
To access the KNP Intervention Guide, click this link
http://knp.kentuckymathematics.org
.
Find out how to use the KNP app by taking this
instructional tour
or reading the
Quick-Start User Guide
.
What Works for RTI:
Video on the panel discusion from the 2014 KCM Conference on, "Models of Successful Elementary Grades Tiered Mathematics Intervention"
Early Math Success
Recordings of the KDE-sponsored, webinar series, Early Math Success: Strategies and Interventions for Elementary Math Classroom 1,2 and 3. Hear Math Intervention Teachers present a variety of strategies to build on early numeracy, addition, subtraction, multiplication and division.
Part 1
Part 2
Part 3
PIMSER Printables
There are hundreds of One-to-One Mathematics printable number and computation resources for elementary grades available on this page.
Math Tools (printables)