Professional Development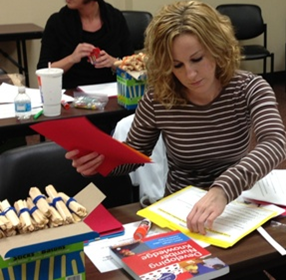 We hope you'll participate in our training events and join our passionate KCM Learning Community. Why choose our professional development opportunities over others? Here are some great reasons to choose KCM...
Employs research-based, evidence-based models of student thinking and learning.
Builds professional relationships among participants.
Increases leadership capacity among participants.
Supports teacher-scholars who have a learner mindset and aspire to study important professional literature.
Aligns with the Common Core Standards for Mathematical Content and Practice.
Supports school compliance with Kentucky's statutes, such as the Primary Program Review, the Professional Growth and Evaluation System, and Response to Intervention.
Is facilitated by highly-qualified experts.
Is continually evaluated and improved.
Is sustained and job-embedded.
Is student-focused and participant-centered.
Many teachers have found that assembling a group of colleagues for viewing and reflecting on the recorded one-hour KNP Webinars together leads to rich discussions within their professional learning communities and has effective, job-embedded, practical applications for starting or supplementing the journey to numeracy for all.
Other resources for professional skill development.