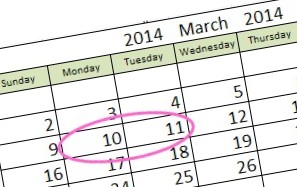 Save the Date!

The 2014 KCM Conference will be Monday and Tuesday, March 10 and 11, at The Hilton in Lexington.

The post-conference day will be Wednesday, March 12.

Erikson Early Math Collaborative Plus Preschool Professional Development


Preliminary Enrollment Deadline: Friday, May 17



In response to the high-demand for additional offerings of the EEMC (Erikson Early Mathematics Collaborative) preschool professional development, the KCM is recruiting participants for six new cohorts for the 2013-2014 school year. The EEMC Plus course will meet for eight half-day (3 hour) sessions between August and May. View the flyer for more information.

If you are interested in participating in the EEMC, please complete the commitment form and return it by Friday, May 17. Training locations, dates, and times will be determined by participant response. Contact KCM Assistant Director Meredith Brewer (brewerm8@nku.edu) with additional questions or concerns.


Members Login

If you would like to become a Friend of KCM Member (to register for courses, receive information, etc.) please email kcm@nku.edu and describe your interest.
KCM eNews Highlights
New KCM Executive Director We are excited to welcome Dr. Dan McGee, our new Executive Director. More...
Mathematics Acheivement Fund The Kentucky Department of Education has announced continued MAF (Mathematics Achievement Funding) for the 2013/2014 school year at the same amount as 2012/2013. More...
Read all of the latest eNews from the KCM