KCM PRIMARY SPECIALIST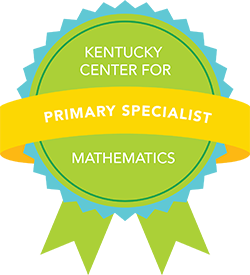 Course Expectations:
Complete Comprehensive Course for Primary Grades
Primary Specialist Course Assignments:
Assignment 1 - Number Talk: In your own classrooms you will lead and video record a number talk. Then you will reflect on your practice in the number talk by using what you noticed in your video of number talk.
Assignment 2 – Exploration Lesson: In your own classroom, you will facilitate and video record a lesson in which students are active. You will reflect on your practice and the student thinking evidenced in the lesson.
Assignment 3 – Formative Assessment Analysis: Over the course of the semester, you will identify five specific instances of using formal formative assessment in your own classrooms. You will collect evidence of student understanding from these formative assessments and reflect on the resulting teaching choices and their effectiveness.
Assignment 4 - Reflective Journal: You will be provided prompts based on the suggested readings in the course. These prompts will often ask you to identify places in your curriculum where you would use particular teaching strategies in the future.
Final Portfolio:
The final portfolio should include all relevant artifacts from assignments with a reflective narrative describing how each assignment helped you grow as an educator. Additionally, a final narrative should be included reflecting on the overall experience.